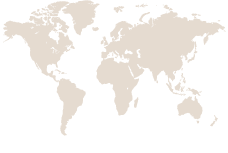 In addition to our office there are also storage spaces, meeting rooms and the Grand Ball Room available for our use. Some of our select safes are even displayed on site.
In our most important target markets we maintain sales offices, service centres and showrooms. We also have select safes on display at exclusive locations and for exclusive events. Additionally, we work together with distribution partners and agents from around the world.
All of our partners are authorized and licensed by LSC. Using LSC quality control standards, these partners and agents are constantly examined and evaluated by us in order to ensure that their reliability in service and quality is equal to ours.
Interested in selling or promoting LSC?
If you are interested in selling and/or promoting LSC, please contact us at your earliest convenience. Also, if you have an exclusive location, or if a suitable event is taking place in your area, we would love to speak with you.
You may call or write to us. We will answer you as quickly as possible. We will also try to answer you in your local language. Contact between us will be discrete and personal. Our customers are our first and foremost priority. We look forward to speaking with you.